In this tutorial, we'll learn how to buy Microsoft Excel for your personal computer or laptop. Microsoft Excel is a software program primarily used to store and analyze data in a special formatting format. It is a "Spreadsheet" program. The intersection of a single unit of row and column is called a "Cell". In technical terms, the spreadsheet is also referred to as a "Worksheet".
Recommended Read: What is Microsoft Excel?
Let's get started on the steps for buying Microsoft Excel.
Device Requirements for MS Excel
The minimum requirements to smoothly run Microsoft Excel's latest version:
| Requirements | Windows | Mac OS |
| --- | --- | --- |
| Processor | 1.6 GHz, 2-core processor | Intel processor |
| Hard Disk Space | 4 GB available disk space | 10 GB |
| Memory | 4 GB (64bit), 2 GB (32bit) RAM | 4 GB RAM |
| Graphics | DirectX 10 graphics card | N/A |
| Display | 1024 x 768 resolution | 1280 x 800 |
| Additional | Internet access and Microsoft account | Internet access and Microsoft account |
Device Requirements
How to Buy Excel for Windows and Mac OS?
Let's see the different options with which you can buy Excel for Windows and MacOS.
1. Yearly renewal
To purchase the Microsoft Excel for your laptop or PC at per year recurring renewal plan or for 1 year, follow the steps below:
The best way purchasing is to visit Microsoft's official website here, and purchase a Personal or Family plan (2-6 people) of Microsoft 365 according to your needs.
On purchasing the Microsoft Office 365 Pack, the bundle includes apps/software such as: Microsoft Word, PowerPoint, OneNote, Outlook, OneDrive and Skype along with Excel.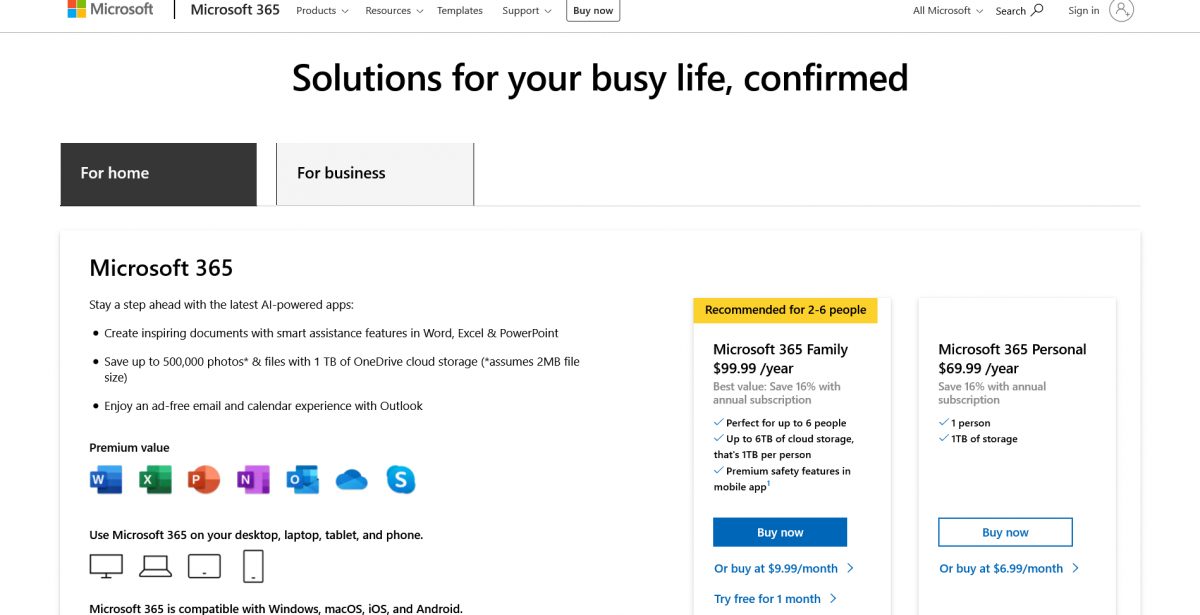 Pricing:
Microsoft 365 Personal: $ 69.99 /year or ₹ 4,899.00 /year
Microsoft 365 Family: $ 99.99 /year or ₹ 6,199.00 /year
If not comfortable with yearly payments you may also opt for monthly payments with a monthly billing cycle.
2. Lifetime Access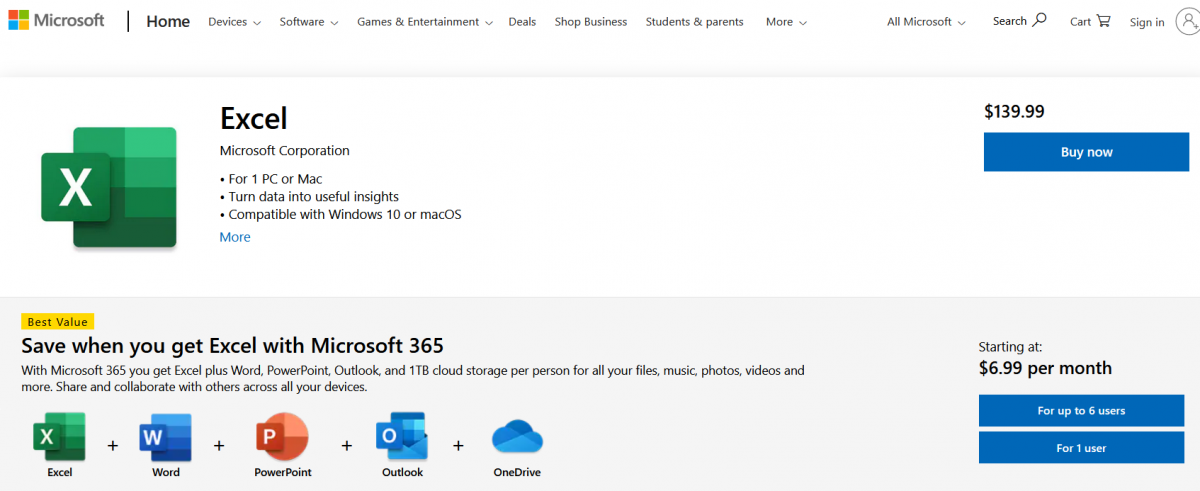 For Lifetime Access of Microsoft Excel: You can download Microsoft Excel as a single standalone application from Microsoft's official site here.
Pricing: Microsoft Excel: $139.99 or ₹ 10,499
For the single application of Excel, the price might seem a bit costly. So let's see how you can officially use Microsoft Excel for free.
3. Use Microsoft Excel for Free
Microsoft offers the users the Web version of Office 365 for free. You can access the same here or simply search for "Microsoft Excel Online". Within the package of Office 365, you can also access Microsoft Word, PowerPoint, OneDrive, Teams, OneNote, and others for free.
Prerequisite for using Excel Online for Free: You need to have a Microsoft Account and don't worry it's free to create and have one.

Note: The online Free Version is slightly limited in features that unlock in the premium plan.
Conclusion
And that's it! I hope you learned how to buy Microsoft Excel officially or even use Microsoft excel for free online. For more tutorials, stay tuned to QuickExcel!