We often choose videos and printed tutorials whenever we think about understanding Excel. Since these are excellent methods for learning Excel in a quicker way, you should also try purchasing Excel books to supplement your knowledge.
Although there are plenty of Excel books available and all books are promising to be the best Excel materials ever, deciding which books to choose might be difficult.
Top 5 books to learn Excel
Here's a list of the top five excellent Excel books that have been well-written. You are not required to purchase all of these books. Simply pick one (or a few) books on the topics you want to study and just get them first.
1. Microsoft Excel 2019 Bible
Excel 2019 bible written by John Walkenbach is one of the best Excel books available. It's pretty comprehensive and covers a wide range of topics.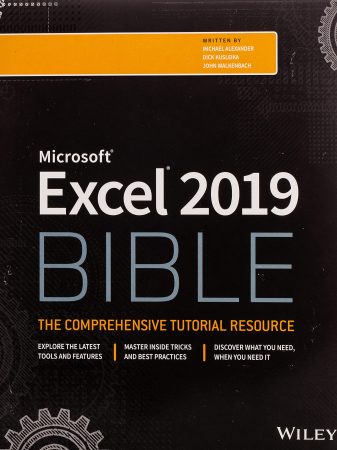 Takeaways:
You can easily accomplish these goals by completely reading this book:
Creating useful spreadsheets for a variety of purposes, both minor and important.
To improve the visibility of your content, you can use charts and visuals.
You may produce more visual data by using conditional formatting.
In your spreadsheet, include information regarding add-ins.
Topics Covered:
Basic Excel Formulas and Functions
How to make Excel graphs and charts
Excel's advanced features
Pivot Tables and Pivot Charts are two types of pivot tables and charts.
Excel Programming (VBA)
2. Excel Dashboards and Reports
This Excel book by Michael Alexander and John Walkenbach is a must-have if you want to enhance your knowledge in making fantastic Excel dashboards and reports.
Takeaways:
After thoroughly reading this book, you will have a clear understanding of:
Concepts about the dashboard, as well as tips and tactics for using it more effectively.
Dashboard principles and standards are provided to assist you in developing fantastic dashboards.
Data analysis and reports that improve the dashboard's appearance and functionality.
To improve data visibility and separate data into distinct views, use different viewpoints.
Find out how to make eye-catching visualizations, remarkable design, and other dashboards and reports with these tools and strategies.
Topics Covered:
Dashboards in Excel
Introduction to charts in your dashboards
Excel charts and charting techniques that are more advanced
Dashboards with pivot tables
Working with people from other places
3. Excel 2019 for Dummies by Greg Harvey
This is an excellent Excel book for those who are just starting and want to lay a solid foundation. It starts from the beginning (basic level) and covers all of the key themes, as well as some advanced concepts. While Greg Harvey's book was developed for Excel 2019, you can still use it if you have Excel 2016 or 2013.
Takeaways:
You can update data, discover how to transfer data throughout worksheets, organize information, and create graphs with Excel 2019 for dummies.
It teaches you how to make worksheets, utilizes formulas, integrates graphs, and does conditional formatting in Excel, among other things.
Topics Covered:
Excel Fundamentals
Excel formulas and functions worksheet design
Worksheet collaboration using Excel charts and graphics
Data Analysis and Management
Macros and VBA are two programs at can be learned.
4. Power Pivot and Power BI: The Excel User's Guide to DAX, Power Query, Power BI & Power Pivot
This book is for anyone interested in learning Power Pivot and Power BI. It's not for beginners, and you should only purchase it if you're comfortable with Excel Pivot tables and other fundamental principles. Up to this point, the best resource for learning about Power Pivot and Power BI is this Excel book by Rob Collie and Avichal Singh.
Takeaways:
Excel pivot tables, relationships, and databases are all covered in this comprehensive guide.
The fundamentals of DAX, Power Pivot, Power Query, and Power BI will be taught.
This book is ideal for both professionals and students.
This book is for you if you wish to get a basic understanding of any topic linked to Excel.
Topics Covered:
The book combines several tools, including Power Query, Power BI, PowerPivot, and DAX.
This Excel book is not for beginners; the reader must have a good understanding of pivot tables and databases.
5. Excel Macros for Dummies
If you're new to VBA, Michael Alexander's Excel book is a wonderful place to start. It starts with the basics to ensure you don't get lost and to help you create a solid Excel VBA foundation.
Takeaways:
Michael Alexander is the author of Excel Macros for Dummies. He has been recognized as a Microsoft MVP and is a Microsoft Certified Application Developer. The author has 15 years of experience in office consulting and development, as well as offering basic access and excel tips.
Every topic on how to use macros is addressed in detail, with detailed explanations and instructions. You may discover how to configure your application according to your preferences and the way you want it here.
Excel macros are simple to use and work with, and you may work with workbooks, worksheets, and ranges.
There is a macro that will fix your difficulties, so you can optimize your process. Further modifications do not necessitate the use of a coder.
Topics Covered:
Micro fundamentals overview
How to make and construct workbooks
VBA: A Beginner's Guide
How to Make Your Reports More Automated
Obtaining data from external sources
How to use Excel to send emails
How to Make Your Data More Organized
Conclusion
Here are the top 5 Excel books that are suited well for every Excel enthusiast.
Don't prefer learning Excel from a book? Check out the Top 5 Certification Courses for Excel
And you can always go through QuickExcel's extensive collection of Excel tutorials to learn in-depth about Excel.