This tutorial is an ultimate beginners' guide to creating barcodes in Excel from scratch. You can now create custom bar codes on your own in Excel to improvise and digitalize your inventory management system in a smarter way.
By the end of this tutorial, you will be able to create custom QR codes and bar codes in a jiffy. So, let's get cracking!
What are Barcodes?
Barcodes are visual codes that look like bars that are readable by a machine (barcode scanner). Barcodes look like black and white lines with a set of numbers below them.
As you can see in the image above, a barcode comprises of:
Bars- right, left, and center
Number character system
Manufacturer number
Item number
Check digit
Every item in the inventory has a unique barcode number that differentiates each item from other items in the inventory.
3 Benefits of using barcodes over manual entry
Here are the benefits of using barcodes for your industry.
1. Error reduction
Manual data entry is highly vulnerable to errors, mistakes, faults in the managing and storing item data of a huge number of products. Not only does it reduce the correctness of the data, but it is also very time-consuming and tedious.
Barcodes have solved the problems of faults and mistakes in the data entry and we can now store huge amounts of correct data in less time.
2. Item tracking
With the usage of barcodes to scan items in the inventory, tracking them has become even easier. This is because the barcode scanner creates a reference of each item as soon as it scans it. This has enabled organizations to keep track of their products efficiently, helps them identify the location of the item, and predicts the time remaining for it to reach the customer.
3. Better decisions
Barcodes have helped in bulk, accurate, and efficient data collection that ultimately improves decision-making and strategy formulation in organizations. It provides real-time tracking of the items and stock to the management that ultimately helps professionals take time-sensitive decisions on time.
Steps to create barcodes in Excel
Let's get started with the easy steps to creating barcodes in Excel.
To begin with, you are required to install the barcode font in Excel to create custom barcodes for your products. Don't worry, it's 100% free.
Click on this link here to download your barcode font.
You can choose a custom barcode style that you wish to apply from the link. We recommend using the CIA CODE 39 font.
Once, your barcode font is installed, follow these steps to unpack the barcode font.
Open the downloaded file from the browser.
You will see a ZIP file with the font name in your system libraries.
Right-click on the ZIP file.
Click Extract here.
The font file fill will get extracted in the same folder.
Now, right-click on the extracted file.
Click Install.
Your font has been successfully installed.
Close the Excel application and all the currently running Excel files on your system and restart the application. You can find your barcode font in the fonts section with its name.
Now, let's start using the font to generate custom barcodes for products. Here are the steps.
Open an Excel workbook.
Type the name of an item in a cell.
Type the code of that item in the adjacent cell.
Select the cells with the code.
Right-click on those cells.
Click Format Cells.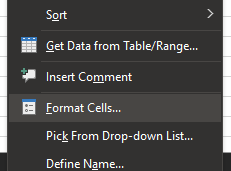 Click on Text on the left.
Click OK.
We have converted the code to the number format for the font to apply correctly to the code. If you do not do this, your barcode font will not be applied correctly.
Now, go to the Home tab and choose your barcode font from the Fonts section.

You can see that the barcode is successfully created.
Industries benefitting from barcodes
Barcodes are not just used by retail industries to manage inventory, they are proving to be useful by a variety of industries such as healthcare, education, banking and finance, and the government.
Education– Barcodes can be used for effective data entry of students in universities and schools. Student ID cards can be scanned to mark attendance and to collect data automatically. It will improve the efficiency of student data management.
Healthcare– The healthcare sector can benefit from barcodes by using them to manage real-time critical patient data. Attenders can keep track of medications accurately.
Banking and finance– Barcodes can be used to scan and fill critical application forms. Loans, cheques, drafts, or financial forms can be issued speedily if the information is scannable and registerable.
Conclusion
This tutorial was about the easy steps to create and generate custom barcodes in Excel for your products for better and smarter inventory management. Stay tuned for more interesting tutorials like this!